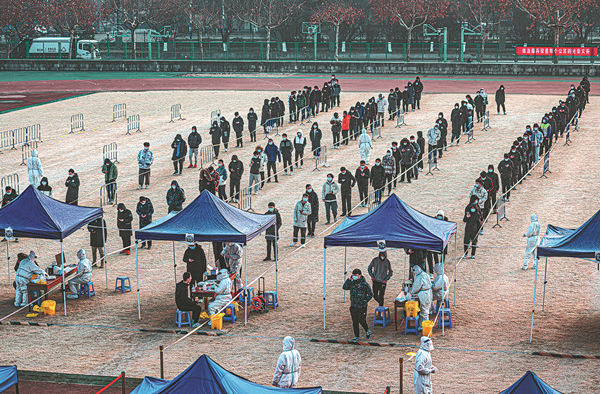 People line up for nucleic acid tests on Sunday at a testing site in Northwestern Polytechnical University in Xi'an, Shaanxi province. Xi'an is taking efficient and comprehensive measures to curb the spread of the latest COVID-19 resurgence and guarantee that the city continues to function normally. ZHENG TINGPENG/FOR CHINA DAILY
Civil affairs departments in Xi'an, the capital of Shaanxi province, have provided aid to 222 homeless people and street wanderers as of noon on Monday amid a COVID-19 outbreak in the city, a senior official said.
Kong Hong, deputy director of the Xi'an bureau of civil affairs, said at a news conference on Monday that"civil affairs departments have established a number of shelters for the homeless people in the city".
"All of the street wanderers and homeless people will be sent to the shelters for living arrangements when they are found on local streets," he said.
Meanwhile, the bureau has provided a total of more than 6.66 million yuan ($1.05 million) since December to 8,504 low-income residents, widowed elderly and elderly without a spouse or children they can depend on, people in extreme poverty and disabled people, Kong said.
In addition, the bureau has established a temporary liaison office to help people from outside the city who have been stranded in Xi'an after the lockdown was imposed due to the outbreak, he added.
Efforts to curb the spread of the novel coronavirus in Xi'an are continuing around the clock, despite a reduction in the number of new confirmed cases.
City authorities said Xi'an's epidemic prevention and control situation is still in a critical period, and the risk of community spread still exists.
Liu Guozhong, Party secretary of Shaanxi province, urged relevant departments to introduce effective and concrete measures to prevent and control the spread of COVID-19 in Xi'an's urban villages.
Nucleic acid testing should be further expanded in these villages, which have a higher risk of infection because it is more difficult to manage the coronavirus'spread there, Liu said at a work conference on Sunday.
A new round of mass nucleic acid testing was started at 1 pm on Monday.
According to the provincial health commission on Monday, Shaanxi reported 92 new confirmed locally transmitted cases on Sunday, with 90 detected in Xi'an, all of which were mild cases.
As of the end of Sunday, the city reported a total of 1,663 confirmed cases in this outbreak, which began on Dec 9.
Xi'an had three high-risk areas and 64 medium-risk ones as of the beginning of Monday.
On Sunday, the Shaanxi Provincial Committee of the Communist Party of China agreed that Yang Jianqiang, vice-mayor of Xi'an, will concurrently serve as Party secretary of the city's Yanta district to further strengthen pandemic prevention and control work in the district, which has been hit hardest by COVID-19.
Wang Bin, former Party secretary of Yanta district, and his deputy Cui Shiyue were removed from their posts on Sunday. Yanta district reported 37 new locally transmitted cases on Sunday.